Don Quixote and Sancho sallied forth this morning to St. Moritz from Samedan, intent upon finding adventure and honor on the Glacier Express bound for Zermatt. The trip would take a long eight hours and would deposit them in the town nearest the Matterhorn, that famous craggy peak.
But let's not get ahead of ourselves. The adventurers surely could not depart on an empty stomach. They enjoyed a delicious breakfast of cereals, yogurt, cold cuts, cheese, jams, and breads–typical of what they normally partake of and of excellent quality. This was yet another way in which Hotel Palazzo Mysanus exceeded all others so far.
Raul and Lauren's railway journey was long but immensely more comfortable than by plane. The travellers opted to upgrade from second to first class due to the length of the trip. Also for the first time, they had a proper meal on a train.
The Glacier Express slowly (sometimes, at 20 m.p.h.) carried its passengers over countless bridges and viaducts, through dozens of tunnels, often perched on the edge of gorges and canyons, and over high mountain passes using a rack and pinion engine and track to overcome 12.5% grades. The terrain varied from the green, Alpine meadows of the Engadine valleys to the barren tundra above the tree line to boulder-lined landscapes reminiscent of the Rocky Mountains of North America. The views were fantastic and endless. Lauren took a nap after lunch, not because she wanted to but because the Dramamine and the gentle rocking of the train made her drowsy.
Once in Zermatt, they checked into their room at the Youth Hostel and dined on the included dinner, which was barely mediocre. They do not plan to partake tomorrow.
A stroll through the traffic-free lanes of Zermatt was all they had time for before calling it a night.

Confœderatio Helvetica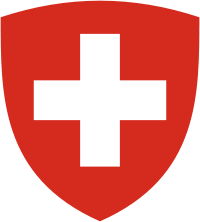 Time
Plan
Sleep in
Day 13
Monday 28 May
Zermatt
07:56
Depart Pontresina on R 4624 to St. Moritz
Duration: 12m


Saved S₣2,50

08:08
Arrive St. Moritz
09:15
Depart St. Moritz on D 905, S₣33 seat reservation – Glacier Express, upgrade to 1st class, S₣96
Duration: 7h 45m


Saved S₣136

12:30
Three-course lunch on Glacier Express, S₣43, 11:00-13:30
17:00
Arrive Zermatt
17:20
Check in at Zermatt Youth Hostel, S₣114,20/night (1-2 nights), includes breakfast & dinner
Tel: +41 027-967-2320
zermatt@youthhostel.ch
17:30
▲Wander the Town or ▲▲Matterhorn Museum, closes at 18:00

Sights